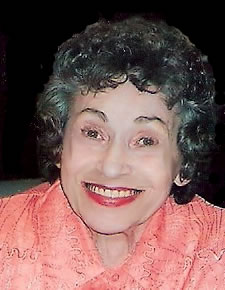 Gloria Rita Goss (January 6, 1930 – October 17, 2007) Surrounded by her loving family at home, Gloria peacefully passed after long courageous battle with lung cancer. She was a longtime resident of Lake Arrowhead and loved her mountains, lake, family, neighbors and her cottage in the clouds. With a career spanning more than 55 years, she managed several successful mountain institutions, including the Lake Arrowhead Country Club, Monte Corona, Lake Arrowhead Yacht Club and the Ice Cream Castle. She also contributed to the success of the catering departments of Snow Valley, The Lake Arrowhead Hilton and The Original Villager.
She is remembered and loved by her two daughters, Christina Jones Connolly and Cynthia O'Kelly, Son-in-Law Patrick O'Kelly, Granddaughter Michelle Honiker Yarbrough and her husband Kenneth, their daughters Kelsea and Cathryn Yarbrough; Grandson Jeremy O'Kelly, his wife Cheryl O'Kelly and their children Chloe, Quentin, Cade and Phoebe; Grandson Matthew, his wife Haley O'Kelly and their daughter Jasmine; Amanda Woodgrift and sons Cody and Austin O'Kelly; Grandson Daniel Lyons; Grandson Robert Connolly, III; Granddaughter Katie O'Kelly, Dave Motley and their daughters Amelia and Cassidy Motley.
She is preceded in death by her beloved mother Gloria Benitez y Munoz and sisters Mary Frances and Rosemary as well as many long-time friends from her days with the Elks Lodge, Bowling Leagues and Senior Center. Her family is certain she's already won several after-life Bingo games and has Mickey Haskins hopping mad. GG wouldn't have it any other way.
She will be forever remembered as a strong-willed woman, full of life, mischief, fun and determined to do it her way. Her unrestrained passion for the Los Angeles Lakers will be greatly missed by best friend and fellow unofficial "Laker-girl" Betty Baumann.
The Family wishes to thank The loving staff of the Palms of Loma Linda, and Director Carla in particular; Loma Linda University Medical Center, Dr. Gregory Cheek, Dr. Shawn Ifkitar, The Intensive Care Staff of Unit 7200, and most especially Nurses Donelle and Brigid who helped fulfill her wish to come home and take her last breath of mountain air in her mother's bed.
A Catholic Mass will be held at St. Andrews by the Sea on North Padre Island, Texas where she spent many wonderful times with her family over the past 7 years and a memorial gathering will be announced at a later date.