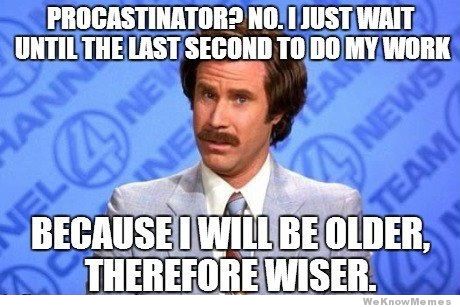 Those that know me know it's no secret that I lack a certain sense of… oh, how shall I put it?
Discipline.
I'm chronically late. I'm often finishing 11 things at one time. I'm on Facebook way too much and I read past my bedtime. I work hard in sprints right…up…to…and…almost…passing… DEADLINES.
I both love them and hate them. They're the only things that keep me from procrastinating right up until my deathbed.
In short, I'm the worst.
So for some reason (looking at you Jackie Dana) I decided all on my own (::cough, cough::) to join a group of writers prepping for NaNoWriMo this year. I was/am actually excited about this. It's designed to help you exercise the muscle of writing daily while you work through the process of a quick first draft.
Right up my alley. Just what I needed. Alright. Here we go.
Kickoff. Hey! I read the night before. I'm actually prepared. Go Me!
Days 1-2. Awesome. Only a day behind.
Days 3-4. Catch up over some iced coffee at Kerbey Lane. Could be doing better, but we're still in the game.
Days 5-6. Welp. There's always the weekend. No problem. You can do this.
Days 7-8. Off the rails. Nice, Honiker. Real nice.
My group is now on Day 13. I'm like the little short-legged child chasing after taller siblings. I love the super encouraging Facebook Group and I've actually successfully pulled off a couple of posts convincing them I'm not a tater tot. I am actually doing quite well with the structure and sequence of the novel. I am. And I'm pretty sure the book and discussion with my tribe around it is what unstuck me. So I'm not completely back in the ditch of procrastination.
And guess what? It's the weekend. I'll get caught up. Really. I will.